---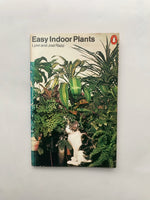 In 1970, Hollywood couple Joel & Lynn Rapp quit careers film and television industry and opened up the legendary Mother Earth Plant Boutique on Melrose Avenue in Los Angeles. In an era of individual self-realisation; yoga, alternative spirituality, LSD, artist communes and vegetarianism; a store selling indoor plants proved wildly popular, and was soon frequented by celebrities and film stars.
For the next seven years, the Rapps established themselves as pioneers of the indoor plant industry, until, at the very peak of their success, Lynn left Joel to join the Divine Light Mission of spiritual leader Guru Maharaj Ji, a teenager from India who enjoyed a tens of thousands of western followers.
In 1976, Mort Garson, the composer, early electronic music experimenter and occultist recorded an album of music for plants which was to be used as a promotional item for the Mother Earth Plant Boutique. Called "Plantasia: warm earth music for plants and the people who love them", the album has since become a cult classic among record collectors, DJ's and plant lovers.
This book was one of the last things the Rapps made together. Published by Penguin in 1977, it gives great, accessible info and advice alongside sweet illustrations - all you need to know about raising plants indoors, with a sunny 1970's LA tone.