---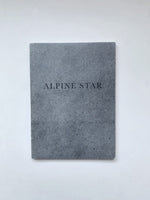 The source of the photographs in Alpine Star is the weekly newspaper from the artist's hometown in Central Idaho. The poetic element of these images is the unnamed, abstract subtext found in every photograph, created by the artist's nuanced sequencing.
While presenting an estranged world of loss and isolation, the pictures in Alpine Star also suggest the cross-pollination of personal history and collective memory.
Published by A-Jump Books, New York, 2006. Edition of 500 copies.
21.6 x 15.8 cm. black-and-white & colour. unsigned and unnumbered.
Condition: Very good, used. Some minor shelf wear / bumps and marks on cover.