---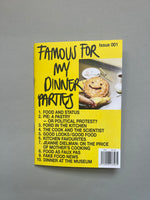 The Berlin-based food culture online magazine 'famous for my dinner parties' is going into print with this first edition zine!
The team have selected their highlights and favourite stories, essays, fun facts and photo series from the last few years, and sprinkled some new bits and extra treats on top.
FFMDP use food to explore larger cultural and societal issues, so this is not simply a recipe or cookery magazine. Instead, read about Futurist food, how food becomes visually iconic, 'automatic' restaurants, and fake food news. Plus plenty of lush photography and illustration.
Food trends, mad flavours, fast food, foodie faux pas. Food that's looks, tastes and feels good.