---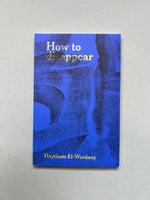 How To Disappear by Haytham El-Wardany provides a series of exercises based around listening.

By following the exercises on remaining silent and concentrating on listening intently, eventually it becomes possible to dissolve and disappear.

Includes information on Disappearing, Reappearing, How to Leave a Group, How to Join a Group, How to Change your Frequency and the essential bonus section: Sounds of the Middle Classes.

Published by one of my favourite publishers Kayfa Ta, who "use the popular form of how-to manuals to respond to some of today's perceived needs". Each book in the Kayfa Ta series is an essay commissioned in the style of how-to manuals that situate themselves in the space between the technical and the reflective, the everyday and the speculative, the instructional and the intuitive, and the factual and the fictional.
Haytham-El-Wardany is an Egyptian writer currently living in Berlin.
Kayfa Ta is a publisher based in Cairo, Egypt & Berlin, Germany.