---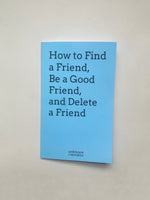 Emerging from lockdown and returning to face to face social activity may well be beset with awkward conversations, so here is a book of good guidance to support you through.
This unlikely how to guide takes you through, defining what proper friends are, how to find them, keep them, lose them or escape them.
Written by an anonymous ghostwriter based in Bhubaneswar, India who has written about numerous topics including: self development, relationships, travel, personal finance, business, wellness, holistic living, beauty, fashion, health, aviation and home improvement.
New Copy.