---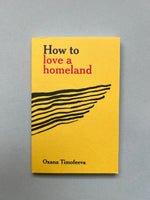 "Don't leave them your homeland; just pack it in your heart and take it wherever you go."
A beautiful book of ideas on belonging, carving out a territory, home, identity and place.
Oxana Timofeeva is a professor at the European University in St. Petersburg, deputy editor of the journal 'Stasis', member of artist collective 'Chto Delat?' ('What is to be done?'), and author of books History Of Animals and Introduction to the Erotic Philosophy of Georges Bataille.