---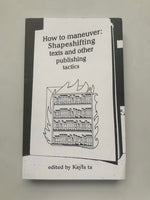 "Publications and print are not mass mediums but eroticised, collectible items; discreet, political, posthumanist acts. A publication today, in print form, can only be experimental, not commercial."
What is deemed publishable shapes our cultural landscape, but only partially reflects it. What becomes visible are publishing projects that have succeeded in passing by the multiple financial, political and legal valves governed by market and state alike.
The snubbed genres, the outlawed subjects, the troubling subjectivities, the excessive, the minimal, the unprofitable, and the unfathomable - are aborted, pushed underground, or stubbornly persist to find a place in the sun.
This book presents a rich variety of writings, research projects and artworks that reflect on contemporary publishing practices, with particular and resonant focus on the Arab world where we find determined artists and activists demonstrating the breadth of possibility, strength and vulnerability, of some of our most creative and daring civic propositions.