---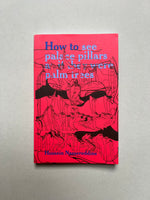 An experiment in language as terraforming, how to build a world out of words and bring it to life with poetic, considered writing. A romantic, imaginary geography. 
Hussein Nassereddine is a multidisciplinary artist working in installation art, writing, video and performance to build fragile monuments, which may come in the form of objects, or spoken words, or sounds. Themes and influences include collective histories, poetry, ruins, construction and image making.
This text was translated from Arabic into English by Ben Koerber.