---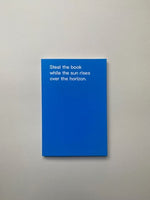 How To Shoplift Books by David Horvitz is a guide to stealing books.
 The book details 80 ways to steal other books, from the very practical, to the witty, imaginative and even romantic. Originally published in 2013, this paperback reissue is available again at an affordable price.
Do not try this in actual bookshops. Always support artists, writers, independent publishers and bookshops.
Published by Edition Taube 2019.
1st edition, English language.
84 pages. Paperback.
10.5 × 15.5 cm