---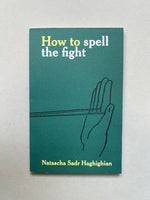 How To Spell The Fight is ostensibly a how-to book about making string figures and cats cradles as a way to demonstrate mathematical structures and systemic thinking. It then becomes a book about computation, algorithms and a conversation about humans, learning and collective power.

By learning how to make string figures, you open yourself to learning much more about how other systems work.
Natascha Sadr Haghighian was born in Tehran, Iran, possibly in 1967, but it is difficult to be certain as she assumes multiple identities and much of the available information about her is conflicting, so it is impossible to know for sure her origins, age and present location.
Haghighian makes art about power structures, complicit relationships, the entanglement of politics with commerce and industry, and how all of this informs and impacts on everyday life.
The fifth book in the Kayfa Ta series. Each book in the series is an essay commissioned in the style of how-to manuals that situate themselves in the space between the technical and the reflective, the everyday and the speculative, the instructional and the intuitive, and the factual and the fictional.