---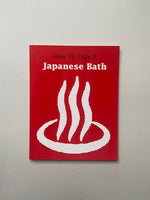 Since its first publication in 1992, this book has become a curious classic, taking a simple (yet often incorrectly performed) activity and depicting it with a graphic, manga-style edge.
In twelve drawings a young Japanese man is shown preparing, rinsing, soaking, communing, relaxing, contemplating - all an encouragement to readers to slow down, ease into the hot water, and enjoy this timeless ritual of purity and release.
Leonard Koren trained as an artist and architect. He writes and publishes books about design and aesthetics. In 1976, Koren founded WET Magazine, a periodical dedicated to gourmet bathing, which was influential in the development of postmodern aesthetics. In 1981, when WET magazine ceased publication, Koren moved to Japan where he wrote several works on aesthetics. Most notably, Koren wrote Wabi-Sabi for Artists, Designers, Poets and Philosophers, which helped bring the Japanese concept of Wabi-Sabi into western aesthetic theory. 
Suehiro Maruo is a Japanese manga artist, illustrator, and painter.