---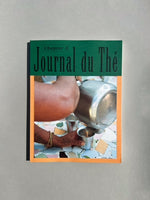 Journal du Thé invites the reader to explore contemporary tea culture and wonders what it is about tea that lets us slow down and grants serene moments to our lives.
It is said, that what makes a teapot a teapot is the empty space inside. Likewise this publication sets out to explore space, in this case the space surrounding a cup of tea. 
Chapter 3 is bursting with content: exploring everyday tea culture in India, visiting craftspeople in Japan, England and elsewhere. Features include the potter Steve Harrison, tiny teaware in Alsace, France, the Kakuun-tei teahouse in the heart of Tokyo forest, Kettl Tea in New York, a short introduction to Einstein's Tea Leaf Paradox, a collection of endlessly surprising teapots from Kochi in India, the metal craftswoman Yumi Nakamura, a teapot in the shape of a peacock, an Indian tearoom in 1920s Germany and its relation to the Bauhaus, the delicate Japanese confectionary of Okashimaru, a piece on Mingei theory and Orientalism, an essay on tea gardens in India and Japan, a recipe for a cup of Rama Tulsi, a piece on the meaning of tea in post-colonial Zimbabwe, Johanna Tagada's paintings of women and tea, a list of books and what they have in common with the tea ceremony, the father of studio pottery in India Gurcharan Singh, Mai-Thu Perret's giant walk-in teapot, Louise Garland introducing the holy Kawakawa plant of New Zealand, Satish Kumar and his inspiring peace walk,Taiwanese potter Ia-Wen Li, and an installment of Izumi Shiokawa's manga.

Published by Poetic Pastel Press. 112 pgs, 26.5 × 20 cm, Softcover.