---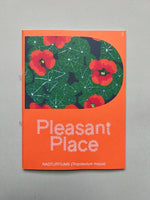 The way it's going out there, if you're not growing your own food already, you will be soon. This sweet and stylish zine contains everything you need to know about your soon to be favourite garden mainstay, the nasturtium. Ridiculously easy to grow, you can eat the flowers, pickle the seeds, make a salad from the leaves, or just let them grow freely in big dangling ribbons with bright colour flowers popping out here, there and everywhere.
Nast-awesome, really.
Contents:
"Nasturtiums: a botanical introduction" with illustrations by Giuliano Bolivar.
"Nasturtiums in art history": an overview of nasturtiums in art.
"Just put them in the ground and you're good": an interview with photographer and gardener Elspeth Diederix (they're her favourite plant).
Noni's nasturtium recipes!
"Tucked in the back of the nursery, hangin' out and kinda rambling": Hanging nasturtiums in the Isabella Stewart Gardner Museums (Boston, USA).
A set of veg patch miniatures by Hugo Rocci.
The cover and inside cover are by Pleasant Place x Marius Grootveld x D.alle and graphic design is by fanfare.
32 pgs, 24 × 18 cm, Softcover, 2022.