---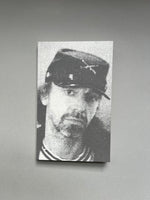 The essential cult-classic collection of poems by American artist, poet, art critic Rene Ricard, written between 1979 and 1982 as he spiralled from partying among the NY art scene into addiction. 
God With Revolver is the re-issue of Rene Ricard's second volume of poetry, originally published in 1989 as part of the highly collectible Hanuman Books series. Original copies are sought after, changing hands for several hundred pounds.
Dedicated to the dramatic experience of heartbreak, this collection assembled from poems composed over several years, seems to be written in a single breath. With its raw sincerity and wit,
God With Revolver
is a vibrant testament to 1980s New York that still speaks to its readers in all its intensity, poignancy, and emotional vulnerability.
Rene Ricard was an American painter, poet and art critic born in 1946 in Acushnet (Massachussetts). At age 18, he moved to
 New York
and joined the underground art scene. He became a protege of Andy Warhol, appearing is several of Warhol's films: Chelsea Girls, Kitchen and The Andy Warhol Story.
Ricard wrote many articles and essays for Artforum and
Art in America, among others. His writings
defined the East Village gallery scene of the early 1980s. One piece 
launched the career of Julian Schnabel and another, the influential essay "The Radiant Child" established Jean-Michel Basquiat's public career and also gave a name to Keith Haring's 
ubiquitous "crawling baby" character.
Ricard also published several poetry books and made paintings, often developed in parallel to his poetry. He lived in New York until his untimely death in 2014.