---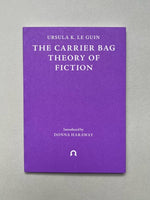 A book and a set of beautifully crafted ideas that everyone should have tucked into their minds, bookshelves or even carrier bags if you prefer, this essential and influential essay challenges prevalent ideas that time is linear and that stories need heroes.
In The Carrier Bag Theory of Fiction, visionary author Ursula K. Le Guin tells the story of human origin by redefining technology as a cultural carrier bag rather than a weapon of domination.
Hacking the linear, progressive mode of the Techno-Heroic, the Carrier Bag Theory of human evolution proposes: 'before the tool that forces energy outward, we made the tool that brings energy home.' 
Prior to the preeminence of sticks, swords and the Hero's killing tools, our ancestors' greatest invention was the container: the basket of wild oats, the medicine bundle, the net made of your own hair, the home, the shrine, the place that contains whatever is sacred. The recipient, the holder, the story. The bag of stars.
Ursula Kroeber Le Guin (1929-2018) was a celebrated and beloved author of twenty-one novels, eleven volumes of short stories, four collections of essays, twelve children's books, six volumes of poetry and four of translation. The breadth and imagination of her work earned her six Nebulas, nine Hugos and SFWA's Grand Master, along with the PEN/Malamud and many other awards. In 2014 she was awarded the National Book Foundation Medal for Distinguished Contribution to American Letters, and in 2016 joined the short list of authors to be published in their lifetimes by the Library of America.