---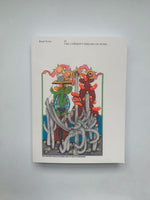 Illuminating and thought provoking selection of writing on music, jazz, poetry, composition and art.
The Cowboy's Dreams of Home takes its name and cover illustration from a psychedelic Wild West reverie of Texan singer-songwriter and visual artist Terry Allen. Alongside a dialogue with Terry Allen, we get a great piece on the legend Milford Graves plus a rare new translation of writing by Rene Daumal.
Contained within:
Conversations:
Terry Allen interviewed by ICA Philadelphia chief curator Anthony Elms.
A conversation between writers and friends Thulani Davis and Jessica Hagedorn.
A discussion between composer Sarah Hennies and cellist Judith Hamann about their recent collaboration.
A conversation with composer-performers Tashi Wada and Charles Curtis on the heels of a recent compilation of Curtis's work, Performances & Recordings 1998–2018, produced by Wada.
Articles:
The legendary jazz percussionist and healer Milford Graves.
English multimedia artist Graham Lambkin and his beguiling 2011 album Amateur Doubles.
UK-based experimental music trio Still House Plants.
Writing:
Rare text, newly translated, by the mystic and surrealist author René Daumal.
Auto-Mythological writings commissioned from Chicago-based composer and musician Angel Bat Dawid.
Published by Blank Forms NYC.
202 pgs, 20 × 15 cm, Softcover, 2021.
New copies in stock.