---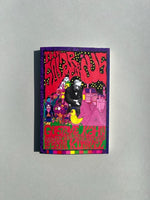 "Have I understood the philosophy of The Solar Circus correctly? One must savor life in a few fevered grasps, as one might squeeze all of the juice and all of the beauty from a fruit, before casting aside its useless skin." — Albert Mockel
"Henceforth, The Solar Circus shall be one of the two or three novels that I savor during the quiet hours of dream and melancholy, when the soul surrenders to the painful nostalgia of infinity and the beyond." — Filippo Tommaso Marinetti
The Solar Circus is the great forgotten masterpiece of French Symbolist literature. Written by Gustave Kahn—the man whom Stéphane Mallarmé and Jules Laforgue credited as inventing free verse poetry—the novel drips in decadent images of pastoral vistas, exotic gemstones, merfolk, and a phantasmagoric menagerie.
Inverting day for night and reality for a dazzling dream, The Solar Circus tells the story of a solipsistic, isolated Bavarian count who falls in love with the star of a travelling circus. Their relationship, in both love and jealousy, dramatises that great tension between the inner life of contemplation and the dynamic beauty of the external world. And as they set out from the count's castle, the couple examines this duality while encountering a world in transformation: peasants in rebellion, the bright lights of London's Orpheum theater, and even an ether-swilling Jack the Ripper who analyzes humanity through a fog of opium.

Best known as a poet and member of the Symbolist movement, The Solar Circus showcases Kahn's talents as a narrative writer and bears the hallmarks of many of the poetic endeavors unique to late 19th century. Indeed, in the same way that the novel's circus coaxes the count out of oppressive isolation, so too does Kahn's prose lead the reader in new and fantastic directions.
The Solar Circus is a text unlike any other, one that vacillates effortlessly between imagistic poetry and obliquely philosophical prose, prefiguring those seminal 20th century works of Modernist literature which would appear more than two decades later.
This publication marks not only the novel's first appearance in English but also its first independent reissue since it was published in 1898.

"It is a tale that is lucid, transparent, crystalline, but also enveloped in, and thick with, legend and dream. Is it an adventure or a daydream?... [A] blend of novel and legend, of poetry and prose: this transient world, dotted with figures who are painted with disarming clarity and soft style give to The Solar Circus its enigmatic and persistent charm. This novel is a true dream, drained and exhausted by the vigor of logic and thought." — Léon Blum
"[With The Solar Circus,] Kahn is perhaps the only Symbolist to have successfully composed a novel free from the Naturalist mindset still perceptible in Against Nature." — Sophie Basch, professor of 19th century French literature at the Sorbonne
Published by First to Knock, 232 pgs, 13 × 20 cm, Softcover, 2023.