---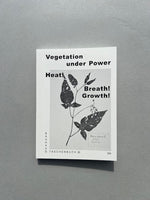 In Bitterfield, Germany there is a county museum. Inside is a black box containing a collection of herbs from 1931. This collection was gathered by botanist Hans Weber, and is an inventory of the flora gathered in the surrounding region of forested floodplains.
Soon after, the area was completely cleared and mined to meet industrial demand for Lignite, known as brown coal, a sedimentary rock made from compressed peat. Taking the herb collection as a starting point, this book explores the relationship between ideas of modernity and progress, set against resource extraction and environmental destruction.
It seeks a future culture of nature-based care and stewardship.
Published by Spector Books in the Bauhaus Books series.