---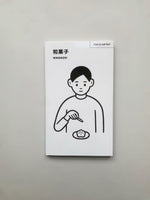 This art, culture and design guide from Tokyo looks at 'wagashi', the traditional Japanese confections made from plant-based ingredients and served with green tea.
The book includes insights from four 'wagashi' lovers including sweets specialist Ricca Fukuda, Motohiro Inaba (co-owner of the Wagashi Asobi specialty shop), Hiroshi Matsuno (owner of Yanaka Matsunoya: Handmade Tools for Everyday Use), and the 'Tokyo Artrip' editors.
The guide features all the essential 'wagashi' spots to visit throughout Tokyo.
Details:
New. 128 pages, illustrations in colour & bw, 12 x 20 cm, paperback, Japanese/English.