---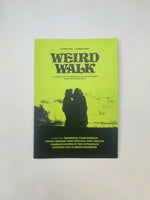 Gather round the fire this autumnal dark night, it's time to exchange some of those mystical tales...
Issue Five of the brilliant and irregular magazine Weird Walk, exploring the myths and tales of the British countryside. Essential reading, writing, wandering and wondering.
This issue takes on the folk horror impulse in children's literature, Stewart Lee on the travels of the mysterious writer Blanche E. Ward, ritual animal disguise, North Yorkshire stag horn rituals, water worship, the gothic tones of the pipe organ and a handy guide to building your own stone circle with Glastonbury's Michael Eavis.